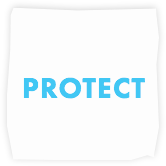 Protect before and afterwards!
Internet enabled copying to become an everyday activity for everyone. Art, books, photographs, music, films. You name it and you will find it on the Internet and you can copy it to your computer in a split second. And now that 3D printing enters the consumer market, soon almost anything can be replicated everywhere. So there are many questions to answer in the field of intellectual property, liability and protection of the author against infringements.
While it is difficult to protect offline work against copying, it is even harder to protect easy copyable online work, let alone ideas. Infringements are everywhere at any time nowadays. As a result, more and more sectors of the industry are forced to search for new business models.
This means you need the best possible protection for yourself and for your client before sharing your ideas, concepts or whatever. To make clear from the beginning that it's yours. So you may need to elaborate your concepts in detail or to register a brand name or slogan. Have a potential partner or client sign an NDA upfront. And so on. Only by doing this in the right way you get a chance to deal successfully with infringement later on.
The same applies to claims or complaints about your work and your liability in that regard. As mentioned before there is a lot of laws and regulation. Therefore, it is better to involve legal counsel to check your proposals in advance. That way you have a better chance to defend yourself later successfully against complaints and claims against you and your client.